Foaming Sheet:-
In interior decoration 3d Foaming sheets are playing vital role with its features. Foaming tiles/ sheets are easier to apply than wallpaper and color, it is kind of sticker of self-adhesive sheets. We have more than 50 different patterns & colors. Vary of sizes in foaming sheets are-
1) 70cm*70cm
2) 70cm*77cm
3) 60cm*60cm
As available in different sizes, also available in different thickness(mm) & prizes also.
Here's an alternative of wallpaper named as foaming sheet/self-adhesive wall sticker. As modern people wants things to be complete as soon as possible so, in retouching your wall will be easier now. Applying foaming sheet/self-adhesive wall sticker is as easier as applying "Die" (Hair color).
Below we mentioned vary features & application process:-
SELF ADHESIVE 3D WALL DECOR – Redesign your walls with 3D brick wall sticker that features a modern white textured design. This self-adhesive brick wallpaper is the perfect DIY tool for a new look.
DECORATIVE 3D BRICK WALLPAPER – Our 3D wall-sticker are very durable and made from high quality PE foam that is easy to install and maintain for long periods. The 3D wallpaper gives your home interiors a realistic and modern appeal.


EASY TO APPLY – Just peel and stick, suits on any clean smooth wall, windows, metal, closet, plastic, wooden, furniture, etc.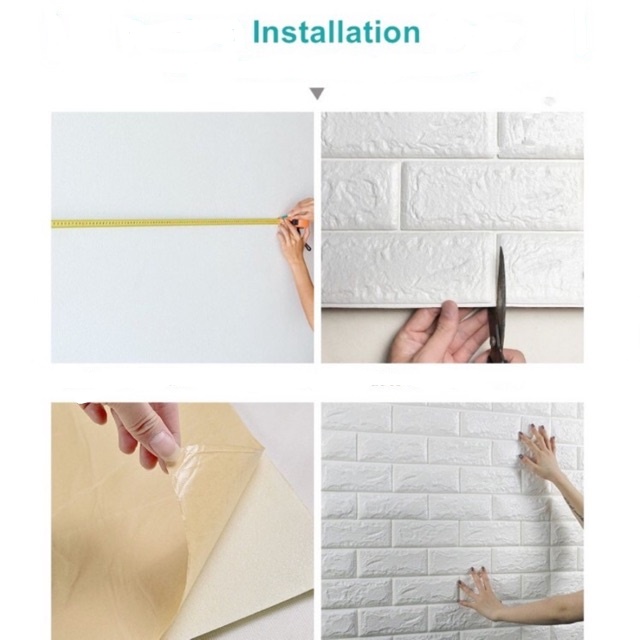 FEATURES – Eco Friendly, Removable, Durable, Pressure Resistance, Shock Resistance, Moisture Resistance, waterproof and durable material.


WATERPROOF BRICK WALLPAPER – Our 3D brick wallpapers are waterproof so they're perfect for your kitchen interiors. You can easily remove and reapply the kitchen wallpaper in different parts of your cooking space without damaging your walls.


DURABLE BRICK WALL STICKERS – Our 3D wallpapers are the best way to protect your walls against sudden oil spills, sauce splashes and stains. This brick wallpaper suits smooth surfaces like tiled walls, plastic surfaces, and wooden panels.