Bring the beauty of Nature to your Home:- Although this pandemic going worst for humans but on other side it healed the Nature after many decades. We missed a lot of thing this year like Traveling, Enjoying vacations, Hill Stations, and also the beauty of Nature. Now you can feel the Nature at your home with us. Decorate every portion of your home with 3D Nature wallpapers.
Want to feel fresh and alive cover your surrounding with greenery, design or change your boring home walls into jungle theme with 3D wallpapers of Bamboos and floral designs.
"Create a stunning Jurassic world theme on any wall Avoid the need for completely redecorating a room and instead, create a fun and bright décor for your child or children the easy way. The cost of paint, and the time to do it can be expensive and time consuming. Instead, take the simpler option of wall decals which will save you money and precious time and will have your chosen room looking great in minutes rather than days. Getting your child involved makes it a fun activity for all ages too! Ideal for family lounge, bedroom, cafe and restaurant, kids room, nursery room etc. PVC, non-toxic and waterproof.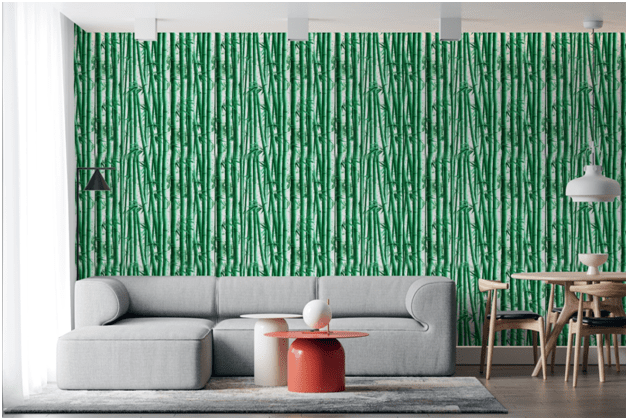 For dreamers and thinkers there is no limit they think beyond the world so cover your walls with the blue sky and think more. It gives you inner peace and strength to fight against depression. For peace, everything matters the person we are talking with, the matter we are talking on & yes of course what we see to please our mind. One of the best natural peace beauty are fairy clouds in the sky, the smell of greenery and the sound of water. We can't get the sound to you but visuals can so, bring these nature beauties wallpaper your home.
Large and Small Patterns
It's a myth that you must select patterns that are the same scale as the room, such as small patterns for small rooms and large prints for large rooms. You can certainly do this, but your design may be rather mundane. A large wallpaper pattern in a small bathroom can be a dramatic design choice. You may decide to use a small pattern in a large den where the space is broken up by windows, doors and built-in furniture. In this scenario, a small pattern creates a great visual with teasing breaks and hints of colors and pattern.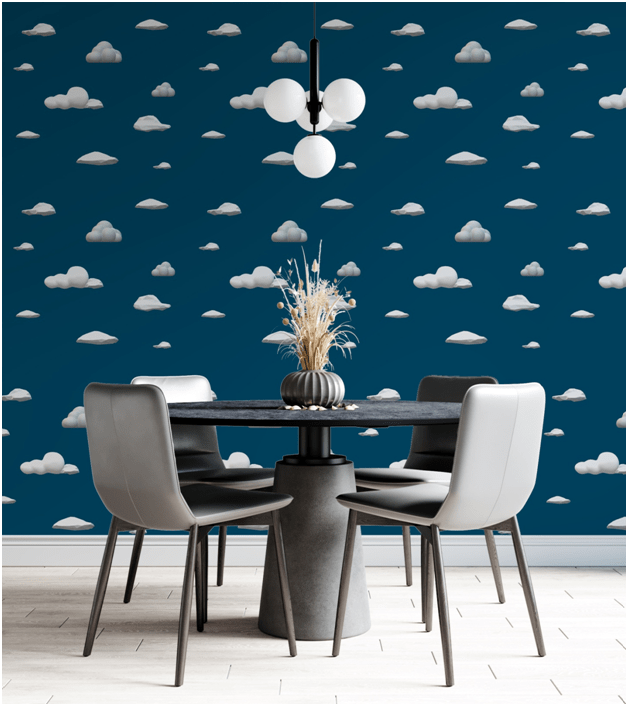 Make your own forest at your home, kid's  gonna like this design let your walls feel free and in the hand of Nature. Medium blue walls with accent wall and ceiling painted lighter blue with clouds. This effect is very peaceful. 
Wallpaper Colors
The colors you select for an interior wallpaper should be a good match to your window treatments, flooring and furniture.
You can get the color saturation of a bold paint color by selecting a colored wallpaper with a pattern that's a few values lighter. This approach gives an elegant touch to a bathroom.
Choose colors from the color palette of rest of your décor. Repeat one or more of the colors with your wallpaper choice.
Use the accent color as the main color in your wallpaper to create drama and contrast.
For a smooth easy transition, repeat the wall paint color as the main wallpaper color.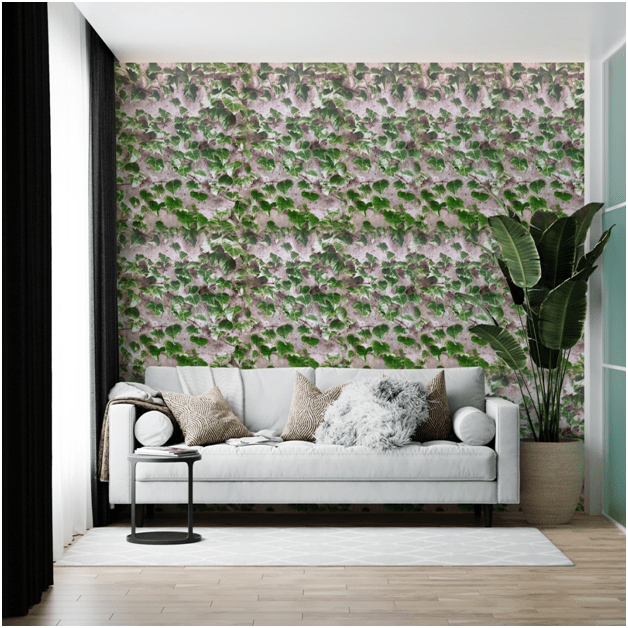 3D Grid is a wallpaper pattern that uses "indented" rectangles to create its small-scale compact visual. Thanks to the shadowing effect in the top left corner of the rectangles, designers can get that subtle 3D effect that provides a sense of depth with its concave look.
There are all kinds of ways you can use interior wallpaper in your home. You can apply it to every wall in every room or only on an accent wall. Wallpaper can be used to break up a wall space or highlight wall space broken up by built-ins.
Choosing the right wallpaper for your interiors can sometimes feel daunting. Colors, styles,, patterns and textures are all factors to consider. Knowing what to look for will help you make the best choices for your rooms.
Tips for Choosing a Great Wallpaper
There's no shortage of wallpaper styles, colors and textures. Decide if you want to cover all walls or if an accent wall would look better in your room design.
Wallpaper Styles
The wallpaper style should go with the rest of your décor style. It should flow naturally with the rest of your space. Some examples include:
Formal: A formal interior benefits from various elegant wallpaper designs, such as a hand-painted print or damask.
Glam: The choices for glam wallpaper include embossed, flocked, crystal or glitter embedded or dramatic reflective designs.
Casual: Your décor can be enhanced with different patterns, such as a plant, floral or textured print.
Country: A plaid, gingham or country motif pattern may be a good choice for your country décor.
Rustic: Select a textured wallpaper, such as a grasscloth for depth, plaid for warmth or a wildlife pattern to fit your theme.
Victorian: A baroque floral damask makes a good wallpaper for this period style.
Modern: Select a geometric or abstract pattern for a more modern décor.