Interior designers sometimes have to work with very specific demands. Homeowners may ask for a specific wall colour or some statement accessory item which doesn't always go with the design scheme. If the client says, designers have to comply, at such tight situation, wallpapers for wall can be a big lifesaver.
We can Make a Small Room Larger with Wallpapers:-
Yes, making a smaller room appear more extensive with suitable wallpapers is possible. As mentioned earlier, horizontal stripes make a room wider, and vertical ones make a room taller. Simple geometric patterns or textures imitating marble make a room bigger. If used in the entire room, a minimal repeating pattern in a lighter color can create a larger space. Diagonal patterns work well in rectangular rooms. 
A neutral wallpaper for bedroom design is a good choice when you have a small room. A wallpaper that has lighter colors and subtle patterns can make a room look larger than it is. Abstract or diffused wallpaper for bedroom tend to give compact spaces an air of roominess.
Because there are so many different kinds of wallpaper, it is acceptable to wallpaper the entire room or just an accent wall. Selecting the right pattern, texture, and color for your wallpaper can make sure that the accent wall or room will not be visually overwhelming.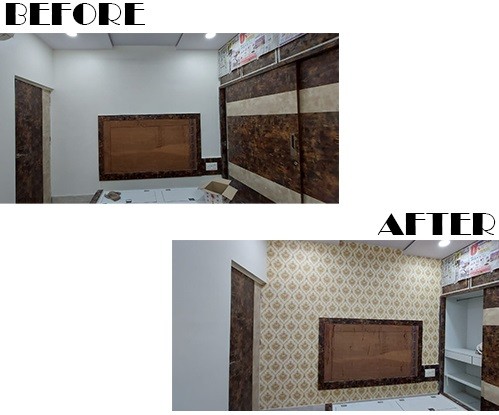 We offer a wide range of colours, styles and patterns. From floral designs to botanicals, and from vinyl materials to sustainable materials, the brand has it all. With more than 5000 unique designs, our wallpaper collections are redefining wall fashion in India with global trends. When a client is being too finicky and wants only imported materials to be used, our collaborations with renowned international brands are a god-send.
Designs:-
To make a home look posh and stylish, these global wallpaper designs from Excel are a perfect fit for all dwellings. From cozy homes to upscale penthouses, and from five-star hotel lobbies to international airports, wallpapers can be used in all kinds of residential and commercial spaces. Wall coverings work seamlessly well in all interior spaces.
From the furniture pieces to wall fashion, they want everything personalized exclusively for their home. When working on such projects, interior designers need to find customized wallpaper companies. With digital printing technology, there has been a growing trend of using customized wallpapers in home. They designed as per the homeowner's likes and preferences. From the colours to the patterns, everything is chosen specifically to meet the client's demand.
Our Wallpapers are a respected and trusted name in the market, and our products are known for their high quality. As a result, interior designers tend to pick our designs more often than not because of their credibility.
Wallpaper is beneficial not only for its aesthetic appearance but it also adds to the longevity and durability of your walls. Even when working with solid colors wallpaper is most beneficial, durable, and cost efficient since it adds a protective layer to the wall that is cleanable and washable.
Wallpaper is a great addition to your rooms and can transform your walls into statement pieces. However, with various trends taking over the design world, it is an integral element rarely discussed. Yet, the suitable wallpaper materials can give your home a unique character, whether you're planning to redesign an old place or a brand new one.
Paint or wallpaper:-
In most cases, people opt for paint over different types of wallpapers when re-modelling their homes. So, we are here to tell you everything about wallpaper materials and different types of wallpapers to ensure you make the right choice.
Careful planning and preparation are the keys to successful wallpapering.
Determine the amount of paper needed and purchase all of it at once.
Ensure all the papers are from the same batch to maintain color/pattern consistency.
Measure and cut the papers. Line them up on the floor to understand how they look on the wall before pasting them.